Cupertino High School
Class Of 1989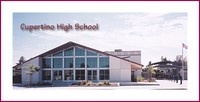 ANNOUNCEMENTS
We can still use your support in finding missing classmates.
Please look at the missing classmate list and see if you have contact information for anyone listed. Please direct them to our Class of 1989 website so they can sign up and receive all reunion information. The site address is below:
Hi Everyone
We are looking forward to seeing all of you at our 30th reunion! I can't believe that it is here already...
We are trying to narrow down some details and will keep you all posted with any information we get. Thanks for being patient and we are all excited to celebrate with you!
Much Love,
Felicia