Cupertino High School
Class Of 1989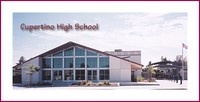 Message Forum
04/28/09 12:26 AM
#2


--Hazle
05/02/09 08:10 AM
#3




Thank you Feesh for all the hard work you have put in to all of this!
06/02/09 08:51 AM
#5



Felicia-it all sounds great! I was starting to think the entire reunion might be a bbq in the park due to lack of funds but this all sounds fabulous! So glad Moto could help us out with the location so we could have a nice party! Great work with little time left and NO money to work with!!!!!

I'll try to help as much as I can from 150 miles away--just let me know what you need.
06/13/09 12:50 PM
#6


Thanks for geting all this together we really appreciate it. I know its been a lot of work. We are looking forward to being there. I will do whatever I can to help out like Jess. Talk to you soon! Will let you know if we will be out there this summer. We are talking about doing a roadtrip with the kids.
LOVE YOU
09/22/09 03:08 PM
#7

Elizabeth K. Dillemuth (Gustafson)

Hi,
Just wanted to send a message thanking Felicia, Jessica, Anne & Brian for their hard work for planning the reunion and picnic without funds from our school.

Thanks to Mo too, for letting us trash - opps - I mean have a great time at his hotel. We aren't in high school anymore.

You guys rock and I can't wait to see everyone.
Kelley
01/12/15 08:08 AM
#8

RIP Colby, my Peterson bleacher dipin' bro and a damn talented drummer. Fond memories of those times hangin' with you and Chris. Best wishes to the Scramek clan.