Cupertino High School
Class Of 1989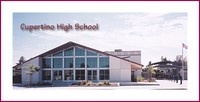 CHS Picture Page
If you have pictures from the Class of 1989 Please share them here...
Old or new, we welcome them all!!
With this photo share site, you can upload pictures, order prints and make any accessories you wish...
This will be the place to upload all of the reunion photos from the 10 year to the 20 year and many more...
To cut down on costs, we will not be having a professional photgrapher at the reunion.
With your help, and the aweesome share sites we have access too, we will be needing all classmates to upload photos to this share-site that way each and every classmate can purchase the shots they would like to have as a keepsake.